Automate setting up new Macs
I recently erased my MacBook Pro to set it up fresh, then soon after, got a work laptop. Setting up a new Mac, with all the tools one needs as a developer, is a nontrivial process, & ripe for automation.
After being a longtime fan of the Thoughtbot Laptop project to automate installation of various development tools, I wanted to customize it. I forked the project to set up all the tools I use, enable hidden files on macOS, & then documented the manual steps I take as well. Since I continue to update that project, check out its README for an up-to-date list of what it sets up, but it includes Homebrew, Git, Node, Yarn, Ruby, & a ton of other developer tools.
During setup, skip Siri & Screen Time, enable all the other default settings

In System Preferences, turn on DND, 5:00am–4:59am (then Cmd-drag DND out of the menu bar)

In the Keyboard settings:

Modifier Keys. Remap Caps Lock to Escape
Customize Control Strip. Remove Siri, add Sleep
Shortcuts. Enable "Use keyboard navigation"
Input Sources. Disable "Show Input menu in menu bar"

Download my Laptop script & execute it:

curl

 --remote-name https://raw.githubusercontent.com/lachlanjc/laptop/main/mac

sh

 mac 

2

>

&1

 

|

 

tee

 ~/laptop.log

In the Internet Accounts settings, add Google account

In the Sharing settings, set the computer name

In the Security & Privacy settings:

Enable "Use your Apple Watch to unlock"
Enable Zoom's components to allow screensharing

Download Craft, iA Writer, Things, Drafts, Dato, & Xcode from the App Store

Open 1Password, sign in, enable its default settings

In Safari settings:

Enable Extensions > 1Password
Enable Advanced > Show full website address
Enable Advanced > Show Develop menu in menu bar

In FaceTime settings (Cmd-,), disable "Calls From iPhone"

In VSCode:

Configure Prettier as the default formatter, set its formatting settings
Turn up default text size
Disable View > Appearance > Show Activity Bar

Install fonts (mine are stored in iCloud Drive)

Set up code folders (~/src, then grouped by GitHub org)

mkdir src
cd src
mkdir lachlanjc
mkdir {OTHER_GITHUB_ORGS}
Add src to Finder sidebar
Switch Finder to Column view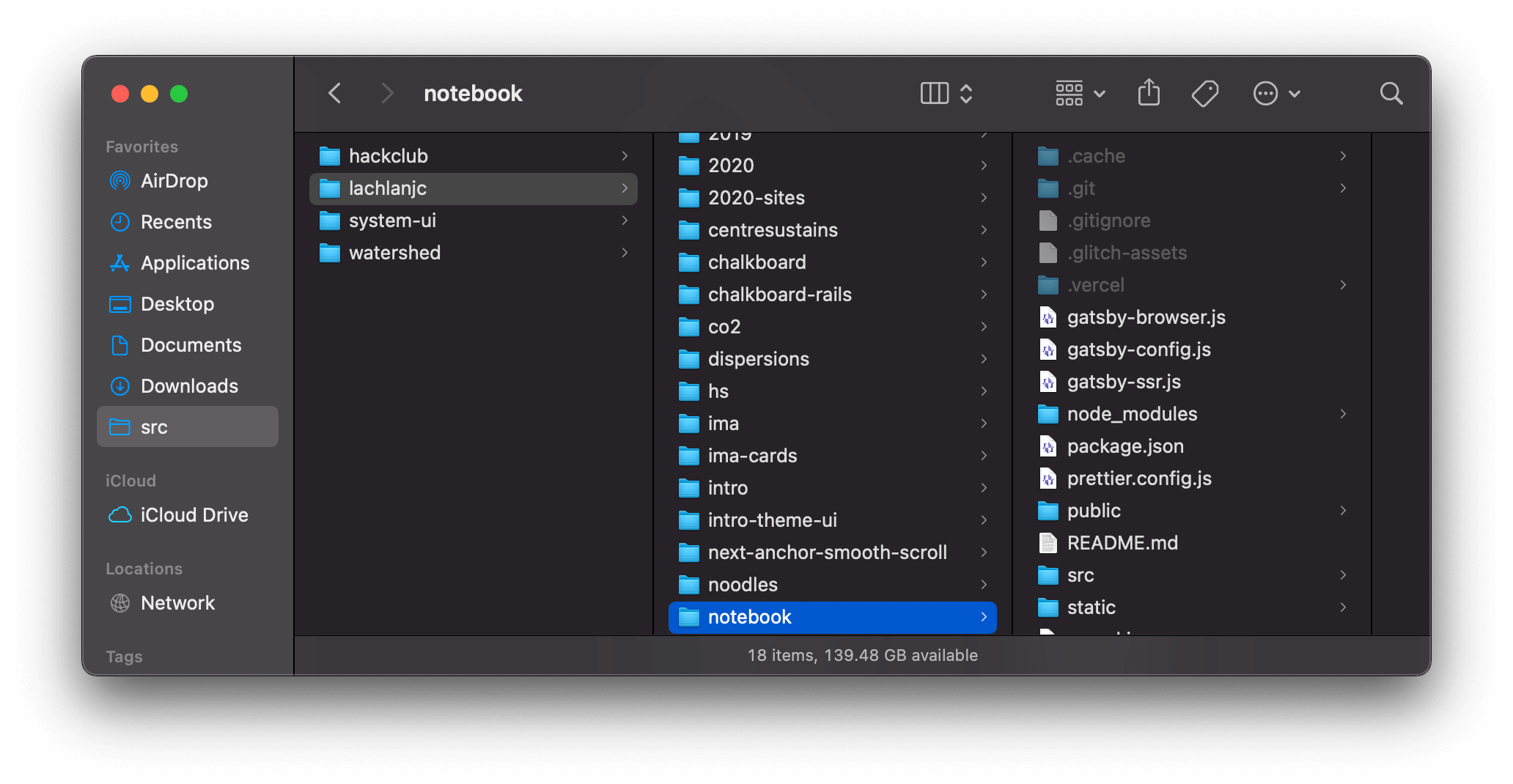 (Note: I've only used Intel Macs. Not sure if anything is different on M1 machines.)
Back up the whole computer. (I use the Samsung T3/T5 drives, alongside ChronoSync since it verifies checksums after backing up, but I know people like SuperDuper as well. Time Machine works in a pinch, as does dragging your user folder to the drive in Finder.)
Because one is none & to make it easier to bring the files you need to the new OS installation, copy the files you want to migrate to another drive as well. For me, I just dragged my code folder (~/src) to a secondary drive, since that's what's really valuable on my Mac. (I have some old projects that aren't on GitHub.)